GARCIA
Irish and Scottish traditional music with echoes of bluegrass.
www.facebook.com/pages/Garcia-cz/103944399638948
www.davidnemecek.cz
Katerina García – vocals, whistle, acoustic guitar
Luboš Malina – acoustic and electric banjo, whistle, tarogato, kaval
Petr Košumberský – acoustic guitar
Adam Stivín - bass
Kamil Slezák – drums and percussions
Pepa Malina – violin
Before Dawn
Indies Happy Trails 2010
open / hide
KON SIRA
The ensemble Kon Sira, focusing on traditional Sephardic and Balkan music, presents a unique interpretation of the traditional songs of the Sephardic Jews.
The song tradition of the Sephardim, preserved in the heart of the Jewish communities of Northern Africa, the Eastern Mediterranean and the Balkans, represents a unique repertoire in which the Hispanic motifs cherished by the Sephardic Jews following their eviction from Spain (1492), are interwoven with the melodic tradition and imagery of the lands where they found refuge.
Kon Sira consists of five musicians from various musical genres. In their interpretations, traditional Sephardic melodies are combined with musical motifs and approaches from different genres and musical styles. The majority of the songs in Kon Sira's repertoire feature harmony vocals and an instrumental accompaniment which doesn't strictly adhere to traditional ways.

www.konsira.com
www.facebook.com/konsiraband
VPROSTŘED NOCI... (IN THE DEEP OF NIGHT...)
We are currently finishing an album which will present a selection of poems by Czech contemporary author Věra Provazníková, Czech poet, translator and graphic artist Bohuslav Reynek (1892-1971) and Czech Romantic poet Karel Hynek Mácha (1810-1836). The poems have been set to music by Katerina García and Luboš Malina and produced by American guitarist and producer Steve Walsh.
Katerina García : vocals, shruti box
Luboš Malina: acoustic guitar, banjo, clarinet, kaval
Steve Walsh: electric guitar
Jakub Vejnar: bass
Kamil Slezák: drums and percussions
Guests: Tomáš Liška (upright bass), Viliam Béreš (keyboards), Pepa Malina (violin)
TRADITIONAL ARTS COLLECTIVE
"Bring the Céilí back to the people!"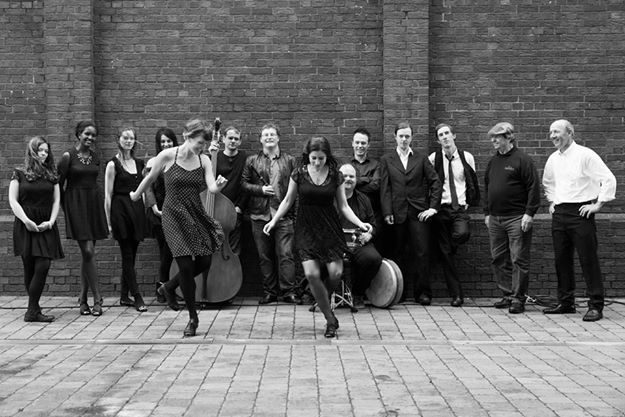 www.traditionalartscollective.com
www.facebook.com/TheGrandFolkClub
KATERINA GARCÍA, SĺLE DENVIR, ROBERT HARVEY
Katerina García and acclaimed musicians Síle Denvir (Líadan) and Robert Harvey (Ciorras) perform a repertoire of songs from the traditions of Ireland, Scotland, Spain, Bohemia and Moravia.
Katerina García: vocals, shruti box
Síle Denvir: harp, vocals, shruti box
Robert Harvey: flute, whistles